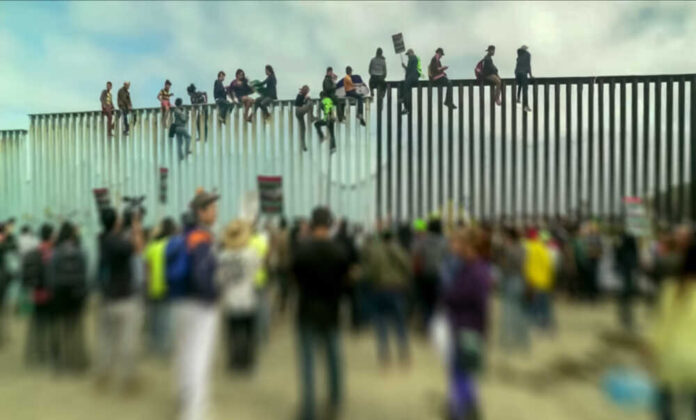 (TheProudRepublic.com) – America's invasion by Third World illegal aliens overseen by Joe Biden seems bound to cause a crime spike nationwide as alarming new figures from the US Border Patrol show a massive surge in the number of criminal illegal aliens arrested at the Southern Border.
In the 2023 fiscal year, which ended on September 30, arrests by the Border Patrol of illegal aliens with criminal records saw an increase of over 26%, based on the most recent federal statistics.
Data reveals that the Border Patrol made 15,267 arrests of criminals in fiscal year 2023, The Daily Caller reports.
It stresses that the new figures show a rise from the 12,028 arrests made in the prior fiscal year, 2022.
In FY 2021, there were 10,763 such arrests; in 2020, the number stood at 2,438.
The data encompasses both the Northern and Southern US borders. The caller also notes that illegal immigration has surged to unprecedented heights lately.
Encounters with illegal immigrants at the southern border exceeded 2 million in both fiscal years 2022 and 2023.
More than 7 million illegal immigrants have invaded the United States – among them about 2 million gotaways – since Joe Biden took over the White House in January 2021.
"When you have an open border, you don't get to control who or what enters your home. There are significant real threats coming across the border," former Border Patrol Chief Rodney Scott told The Caller.
"Unfortunately, all the current administration wants to focus on as an economic migrants and trying to say that they have a kinder, gentler migration policy, but they're putting the entire Nation at Risk, as well as the millions of migrants that are handed to the cartels to be trafficked across the border," Scott elaborated.
The US Customs and Border Protection (CBP) clarifies that the arrested criminal aliens had prior convictions, either within the US or internationally.
In addition to these arrests, the data shows that the Border Patrol apprehended 988 criminal aliens who had outstanding warrants. Moreover, across the nation, they arrested 598 individuals affiliated with gangs in the fiscal year 2023, 178 of whom were linked to the notorious MS-13 gang.
A concerning detail from the data is that encounters with illegal aliens listed on the terror watchlist at both borders rose to 172 in 2023, an increase from the 98 documented in 2022.
🚨This is what an INVASION looks like!

🚨Thousands of military aged illegal immigrants continue en masse trying to reach the USA!@POTUS IS PAYING FOR THIS INVASION!@DNC WANTS TO DESTABILIZE AMERICA 🇺🇸 THIS MUCH!#BidenBorderCrisis #IllegalImmigrants pic.twitter.com/2zXkY1qHGa

— Peter McConeghy (@petersthoughts) October 21, 2023